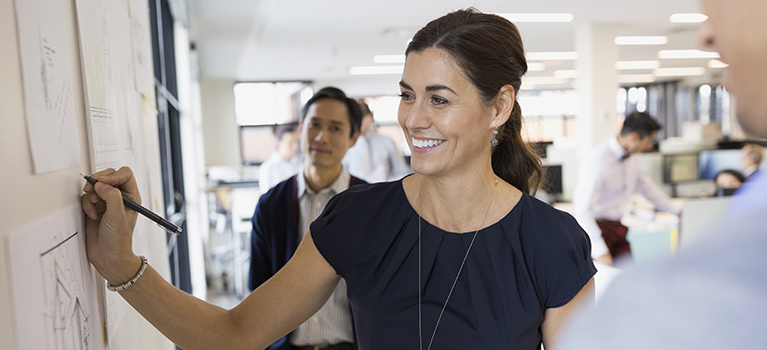 Leadership Team
Meet the Banner|Aetna Leadership Team

Thomas J. Grote
Chief Executive Officer
As founding chief executive officer of BannerlAetna, Thomas J. Grote brings a collaborative mindset and innovative spirit to the joint venture health insurance company, which is now the fastest growing health plan in Arizona. Grote's ability to bring people together to work toward a common goal has helped seamlessly bridge the two companies under a highly effective payvider model, ensuring both entities benefit from these efforts and share accountability for quality and health care costs.
As one of the earliest joint venture health plans in the country, Banner|Aetna has successfully aligned payer and provider incentives to drive down costs, improve quality and enhance the member experience. Under Grote's leadership, the Banner|Aetna performance network has achieved savings of approximately 15%. The plan has also implemented innovative solutions for diabetes care and virtual care and initiatives like "frictionless billing", which streamlines the health care billing and payment process for plan members.
Grote possesses more than three decades of experience in the health insurance industry. Immediately prior to his role as Banner|Aetna CEO, he managed Aetna's operations in Arizona and New Mexico, and oversaw the west territory markets. His career at Aetna also included various sales and profit and loss management roles. His distinguished career includes the achievement of several important industry milestones, including helping Aetna launch their first joint venture in the Northern Virginia market.
Thanks to the deep expertise gained through these efforts, Grote has secured his position as a thought leader and he is regularly invited to speak at national industry events and featured in some of health care's most influential publications. His outstanding leadership and ambitious vision for change in the industry has been recognized by the Phoenix Business Journal who named him "Most Admired Leader" in 2023. Grote was a finalist in AZ Big Media's Champion of Change "Healthcare Leader of the Year" award and is also listed as a "Phoenix Titan 100" by Titan CEO, where he's been appointed to serve on the Phoenix Titan 100 Board.
Grote graduated from the University of Notre Dame. He lives in Arizona with his wife and is actively involved in a variety of local charities and community organizations including the American Heart Association's AZ chapter.

Joanne Mizell
Chief Operating Officer
Joanne Mizell joined Banner|Aetna as Chief Operating Officer in February 2018, with over 20 years Aetna experience and nearly 30 years in the Employee Benefits industry. In this role, and as a member of the executive leadership team, Mizell oversees operations of the organization and supports the execution of the strategic goals set by Banner|Aetna's Board of Directors and Chief Executive Officer.
Mizell is a proven leader who has consistently delivered growth to various organizations and market segments by developing strong teams, crafting creative strategies and fostering deep community and client relationships. As Chief Operating Officer of Banner|Aetna, Mizell leverages her experience and well-established network in Arizona to execute the organization's mission of helping employers improve the health and well-being of their workforce, while simplifying the coverage-to-care-to-payment of health care for its members.
Mizell started her career in Orange County and Los Angeles, California before relocating to Arizona in 1998. Mizell's previous roles at Aetna Included building sales and service teams for large employers, managing the growth, client satisfaction, and profit & loss for a four state market that included Arizona. Mizell also led the creation and build of a new product portfolio for Aetna's National Accounts segment, simplifying the selection, purchasing and administration of voluntary products for Aetna's largest clients. Outside of Aetna, Mizell was a broker/advisor at an international insurance brokerage firm, where she served as lead health care and benefits design strategist for larger, complex clients.
Mizell has also worked in both paid and volunteer leadership roles for several humanitarian and animal protection organizations. She continues to be actively involved in formal local and state advocacy aimed at improving lives through proposed legislative and policy changes in Arizona and in the United States.
Prior to beginning her career at Aetna, Mizell studied Business Administration at California State University at Fullerton, while working full-time in the employee benefits department of Hughes Aircraft Company. Making lives better by delivering best-in-class employee benefits has been her career journey ever since. Mizell's role at Banner|Aetna takes that experience and passion to the next level.

Dr. Robert Groves
Chief Medical Officer
As Executive Vice President and Chief Medical Officer, Banner|Aetna, Dr. Groves is responsible for physician leadership in population health management. He's also responsible for delivering on clinical performance and utilization management in the volume to value transition.
Dr. Groves earned his M.D. degree from the Medical College of Georgia. He completed Internal Medicine training at the University of Texas Southwestern Medical Center. He also completed fellowships in Critical Care Medicine and Pulmonary Diseases at the University of Alabama at Birmingham.
Dr. Groves also serves as Chief Medical Officer, Banner|Aetna.

Dan Keller
Chief Financial Officer
Dan Keller joined Banner|Aetna as the Chief Financial Officer in August of 2017. In this role, Keller oversees the financial performance of Banner|Aetna and supports the CEO in driving the strategic plan.
Keller joins Banner|Aetna with over 20 years of health care management experience mostly in finance, actuarial and underwriting roles. Previously, he served as CFO of Aetna's Arizona, Colorado, and New Mexico markets. Before relocating to Arizona in 2014, Dan was the Head of America's pricing for Aetna International based in Hartford, CT.
Dan is a graduate of the University of Wisconsin – Eau Claire, where he received his Bachelor of Science in Mathematics.
Transforming health care, together
Banner|Aetna aims to offer access to more efficient and effective member care at a more affordable cost. We join the right medical professionals with the right technology, so members benefit from quality, personalized health care designed to help them reach their health ambitions.